The Virgin Hare Haunted Hash
Run #1488, Oct 6, 2014
Hare: Glutenless Maximus
Location: Theakston de Coppet Nature Preserve, Richmond, RI
Weather: 60's & Full Moon
Present: Next Week, Dr. WHO, Bondo, Ass Quack, Crabby Shag, Oozing, WIPOS, Crotch Tiger, Fecal Vener (aka: Who Wants My Johnson), Pass On Pussy, Basket, Sleeping Booty, Just PJ, Chicken Man Eh?, Rusty, The KlingOn (aka: Smells Like Fish), OOzing and Buddy the Dog
Hashit: Basket

The Virgin Hare found virgin territory in Rhode Island, and it may be the first haunted Hash in RIH3 history. The start was at the de Coppet summer house at 156 Hillsdale Rd, Richmond, RI. The owner, Theakston de Coppet was a Wall Street multi-millionaire WHO died 75 years ago. He left the 1,825 acre summer estate, in what was once a thriving mill village on the Beaver River, to the State of Rhode Island, if they could prove they could manage it once the last of his heirs died. We parked in the driveway, spilling over into the field beside the house. Chicken Man Eh? shared a sampling of his homebrew, as the hounds started to arrive one by one. The Hare gave chalk talk, explaining the marks using flour, chalk and paint balls. This has to be a first, and may well have twisted a few panties of those "leave no trace" Hashers. He used orange so the color would blend in nicely with the changing leaves. So one may wonder why? OOzing was last to arrive as we started out on trail.

Inside the second story was seen a candle, that moved from one window to another. Initially, it was thought to be reflections of our flashlights, but something didn't seem right. It seems that Roger Antwipple, the butler, WHO had died in the bedroom, gazed out on the small band of Hashers assembling outside and said to Martha Smith, another ghost, that he was concerned about this unprecedented amount of commotion in the yard. There had not been anyone here for over two years, except for some state and local dignitaries, and then, but for only a moment or two. Roger commented about the drinking going on and someone throwing a large stick at a black dog. One throw almost impaled the poor beast, and Martha shrieked in horror. All returned to normal in a short while, as the pack of vandals ran off into the woods. They were seen later, on a hill behind the house, singing and someone yelling "FUCK" many times across the field, but eventually they left and quiet would once again fill the night air.

The trail led us through the side yard and westerly, to a small path that turned north, and ran parallel to Hillsdale Road. The trail continued northerly, crossing the Beaver River. Crabby, AQ, Fecal Veneer and POP were in the front and splashed on through. Rusty, WHO was initially lagging behind to scratch his balls, decided to take the road and cross over the bridge, followed by OOzing and Basket. Most of this Hash trail was bushwhacking, with very few actual trails. I had decided to wear long pants, something that rarely happens, because I forgot to bring shorts, but very happy as the briers were long and sharp. The pack stayed, pretty much, together as we weaved our way uphill, gradually turning westerly into a band of large rocks. Up to now, the flour marks were well placed and one of the paint ball splatter was pointed out to me on a tree stump. Once we started downhill, we had a bit of a problem finding trail, eventually spying a BN with an arrow on a rock in chalk. Everyone searched for the Beer Stop, for what seemed to be eternity, and eventually had to have the Hare give us some clues and finally point out the small B written on a rock.

The Beer Stop was enthusiastically enjoyed, as the beer was plentiful and, mostly, very good. There was cider and some Gluten-free IPA, but the remainder was a good selection of IPA's and some Orange food too.

The trail back to the start was short but long. It was very dark now and everyone had their lights on. Rusty asked OOzing for the spare light, that he gave him at the start, because his batteries died. I handed Rusty my horn with spare headlamp attached, so he could find his way back. Having a second thought about it, I said, "I should keep the horn and let you use my headlamp." To which Rusty replied, "Don't worry, I won't lose it." I hesitated, but thought what the hey. As we neared the cars, Glutenless told us the Circle would be found off to our right just before the grassy back yard, but we searched for quite a long time, until the Hare went back to the cars and retraced his route to a hill off to our left. High upon a rock, beer and more orange food was found. Stragglers, WHO had gone back to the cars started to arrive and the call to start the circle began. Everyone showed by the time we finished "The Monks of St Bernard", except for two lonely Wankers. Bondo, and his Klingon, decided they'd stay at the cars, and enjoy their own company and Bondo Brew.

The comments were mostly positive: virgin trail, especially great for a virgin Hare, shiggy, short, long, good beer, no Bondo, no Klingon, no Amish, no Donkey, Buddy almost ripped my knee off with a stick. Negatives were: no shiggy, no Pussy, no Pubic, poor marking with chalk at BS, use of paint balls, lost beer for circle and theHare got lost. The ratings were very good, and even Bondo gave it a 13 "FUCK" from the car, like a ghost from the future calling back to the Hash. The Klingon was silent. The Hash rated the trail a positive 6.9, despite WHO insisting he'd never give it that high a rating for a V Hare. The Hare received his DD and started a song that was almost in tune and with a melody, that was very close to being correct. He was was quickly joined by the Hash, as Rusty protested for giving him too much help. Chicken Man Eh? got his DD for backsliding and sang, "The Mayor of Bayswater". The Toilet Seat Hashit was, again, absent and hopefully will show someday. The discussion for Hashit was long and boring (mostly). Chicken Man Eh? almost got it but was quickly moved to OOzing for forgetting his light, then Rusty for giving him his spare and then having his battery run out, Bondo for not joining the Circle, and the Klingon for staying with Bondo. Then it was decided that Crabby deserved it for numerous reasons: FRB, overachiever, marathon runner, best booty in circle in lycra today, but just as she was about to receive her reward, Rusty holds up my horn and offers proof that Basket lost his horn and best deserves the HS. I, of course, accepted the honor. I did my DD and sang, "Shit, I've forgotten the words."

Circle ended, we traveled to Billy Hill's Roadhouse in Wyoming, RI. The Grand Opening is Next Week, but we decided to break them in. OOzing suggested we stay outside, around the fire pit, and so we did. There was no singing, but the food, beer (Loose Cannon), fire and company was a good choice. Eventually we had to call it a night and start home. Some of us did not wait for the check, but hearing WHO say it'd be $20, paid and left. I received a text from OOzing, as I was still driving, to say we shorted the Hare. Anyone WHO paid $20 still owes something to GM and can settle up on AQ's Hash in Tiverton Next Week. Crabby should be there too, and after running the Newport Marathon has asked for volunteers to rub her throbbing thighs.
That's all I got.
OnOn at Billy Hill's Roadhouse.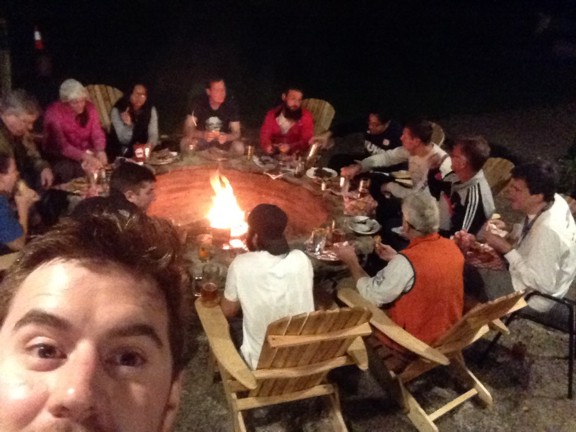 Basket